Fluo vest
'Well spotted! Without Iron! '
This page is an automated translation of /nl/fluovest.html and has not been reviewed yet.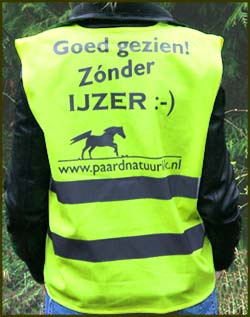 Well spotted! On the one hand stands for the good visibility of the fluorescent vest. But certainly also for "Yes, you saw that correctly, we drive without iron!"
In the horse world a lot of iron is used for our horses: horseshoes, bits and spurs. That is a pity because this does not benefit the health and enjoyment of life of the horse! Fortunately, there are more and more people who realize this and use less and less iron under, in and against the horse. Due to the great enthusiasm of people who have taken the step to work without iron with their horse, this has a snowball effect and more and more people come and just enjoy riding iron-free.
Good example to follow! To reinforce this effect, we have launched these fluorescent vests with the striking text: "Good sight! Without IRON!"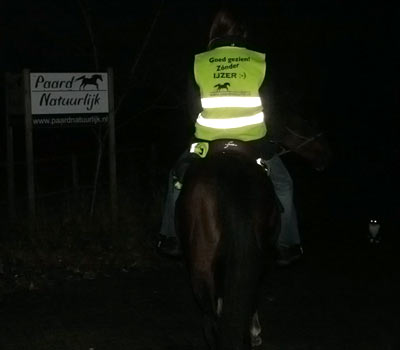 The vast majority of people start riding a horse with horseshoes and a bit. That is not surprising, because this "should be", you are told. For most people it is quite a big step to leave out the horseshoes and/or the bit and ride without it from now on. Some people have more difficulty with leaving out the horseshoes, others more with leaving out the bit. This is a normal natural process, even for us the process to ironless went in steps! In our opinion, you can ride with this jacket if, for example, you still ride with a bit, but no longer with horseshoes. Although, for the sake of the horse, we really applaud it if in the end as many people as possible will just ride without both.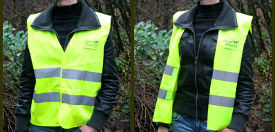 The fluorescent vests have a striking color. They are safety vests, the stripes reflect particularly well when light shines on them. You can use the vests very well when you ride your horse, of course when it is dusk or dark, but it also increases visibility during the day.
Besides for your safety while riding, you can of course also use the vest during events to express your vision about horseshoes and/or a horse bit in a fun and striking way.
A velcro closure on the front ensures that you can wear the cardigan both open and closed.
Sizes
The available sizes are: M & XL.
M is already quite spacious
To order
| | | |
| --- | --- | --- |
| | Er ligt nog niets in je winkelwagen. | |
Prijzen inclusief BTW binnen de EU. Naar landen buiten de EU en voor ondernemers binnen de EU met geldig VAT-nummer (bij kassa opgeven) leveren wij belastingvrij.