Book 'Beleren, (g) an Art'
Guide to increase your own knowledge and experience
This page is an automated translation of /nl/bookbel.html and has not been reviewed yet.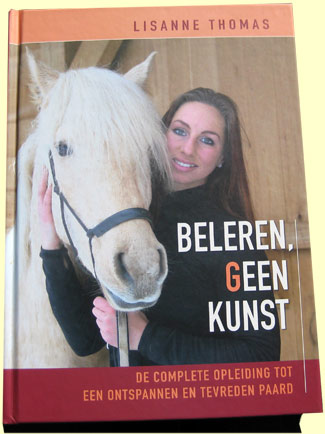 Beleren, (g) an Art, the complete training to a relaxed and satisfied horse
by Lisanne Thomas


What is it?
Back of the book:
Beleren, (g) een Kunst is an extensive reference work for every rider, trainer or horse owner who has to deal with raising, training or riding a (young) horse. For the inexperienced horse enthusiast as well as for experienced riders, this book offers a guideline for a safe, pleasant, relaxed and responsible training structure, with which horses can be fully trained to become versatile riding horses without fear or dangerous situations. The logically structured training encompasses all aspects from establishing good contact with the horse to the responsible development of the horse's body. The combination of clearly structured exercises with clear theoretical knowledge does not provide a rigid tain system, but gives the reader insight into the training needs of their own horse. This is not a ready-made method, but a signpost to increase one's own knowledge and experience, in order to be able to give the horse a tailor-made training, in which pleasure, relaxation, mutual respect and trust are the main ingredients for a training where rider and horse will benefit the rest of their lives.
This book is beautifully illustrated with many color photos.
Index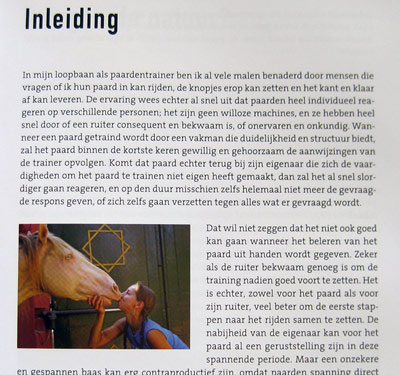 Preface
1. Against nature?
2. Understanding the nature of the horse
- Horse language or human language?
- How does a horse learn?
- Motivation and empowerment
- Friendship, flock or working relationship?
- Leadership and assertiveness
- Character types
3. The beginning, the working relationship
- Clarity, structure and trust
Age and development
- Getting acquainted, a good start is half the battle
- Loosening
- Groundwork
- Learning to stand still
- To walk
4. Physical and mental preparation-
- Body awareness
- Voting aids
- Lungeing
- The girth and the cover
- Muscle building and balance, the pesso bar
- Steering, double lunge
- Bit or bitless?
- The hand horse
5. The saddle
- Fit
- Introduction
- Build-up and desensitization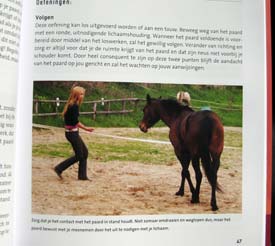 6. The rider
- Alone or together
- Rest and breathing
- The great rider
- In the saddle
7. The first steps
- The passive rider, step by the hand
- Install brake and gas
- Step and stop on the circle
- Trot going on
- Trot on the circle, gear up
- Install the handlebars
- The passive companion
- Apart from the lunge
8. Outwards
- Go outside under supervision
- Outside alone
- The first canter
9. Gymnastics to protect and develop body and mind
- Why gymnastics, the use of posture and strength
- Obedience, sophistication and sensitivity
- Proposition, bending and adherence
- Back to front
10. Conclusion
11. Epilogue
12. Related literature
13. Register

To order
| | | |
| --- | --- | --- |
| | Er ligt nog niets in je winkelwagen. | |
Prijzen inclusief BTW binnen de EU. Naar landen buiten de EU en voor ondernemers binnen de EU met geldig VAT-nummer (bij kassa opgeven) leveren wij belastingvrij.