This page is an automated translation of /nl/booklamquestions.html and has not been reviewed yet.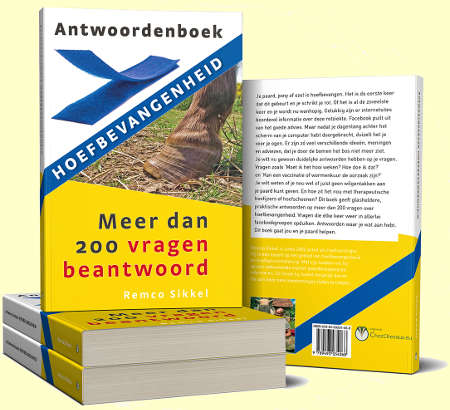 Your horse, pony or donkey has laminitis. It is the first time this has happened and you are shocked. Or it is already the umpteenth time and you are now getting desperate. Fortunately, there are internet sites full of information about this rot disease. Facebook is full of good advice. But after spending days in front of your computer screen, it makes you dizzy before your very eyes. There are so many different ideas, opinions and advice that you can no longer see the wood for the trees. You just want to have clear answers to your questions now.
Questions such as "Do I have to soak the hay? How do I do that?" and "Could a vaccination or worm treatment be the cause?" You want to know whether or not you can give willow branches to your horse. And what about therapeutic horseshoes or hoof boots?
This book provides crystal-clear, practical answers to more than 200 questions about laminitis. Questions that keep popping up in all kinds of Facebook groups. Answers that help you. This book is going to help you and your horse.
136 pages A5 size
What is the difference with the book 'Laminitis: Understanding, Curing, Preventing'?
Now there are two books on laminitis. Below are the differences between the two books.
136 pages
334 pages
Small size (15 × 22 cm)
Large format (20 × 25 cm)
Softcover
Hardcover and softcover
3 illustrations
300 photos and illustrations
Black and white
Color
230 practical, no-nonsense answers to the most frequently asked questions about laminitis.
Very detailed explanation of all aspects of laminitis.
Target group: Horse owners who want a quick and clear answer.
Target group: Horse owners, hoof care workers and veterinarians who want to know the ins and outs.
€ 12.50
€ 41.99 (hardcover)
€ 37.99 (softcover)