Book 'Metal in the Mouth'
Very interesting and informative book about bits
This page is an automated translation of /nl/bookmitm.html and has not been reviewed yet.
by Prof. Dr. W. Robert Cook
What causes a bit in the horse's mouth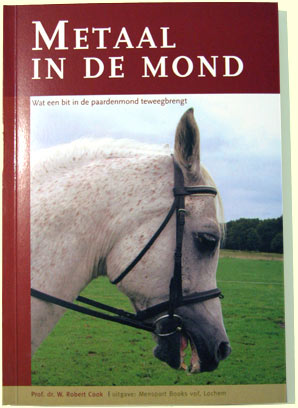 What is it?
Dr. Cook has been a veterinarian for 50 years, has a PhD from Cambridge and is a professor. He made long studies of the horse, especially focused on the horse's mouth and throat and all abnormalities that can arise there. He worked for a long time in Newmarket (England) where he experienced horses in racing. There he discovered the influence of the bit on the breathing of a horse. He brought together all his scientific discoveries in the book "Metal in the Mouth". Now especially for all people who read more easily in Dutch, translated to this book "Metaal in de Mond".
Index
This well-researched book by Prof. Dr. W. Robert Cook clearly shows where the use of a bit leads. After reading this book you will know how a bit works and what happens in the horse's mouth with and through the bit. The effect goes very far, far beyond influences on the mouth alone. After reading this book you will understand why this is so, everything is clearly and well explained. Answer the questionnaire and find out if your horse may have bit-related problems.
A very small selection from the book:
Read all about the horse's automatic chewing reflex that conflicts with the breathing reflex;
See that a horse should only breathe through its nose and not through its mouth;
Learn why and how a forced deflected head posture bends the windpipe and hinders breathing;
Learn how a hold on the layers the bit rests on can cause bone changes.
Index
Foreword (page 4)
Introduction (page 6)

Effects of the bit (page 12)

Over the mouth (page 13)

About the throat and lungs (page 18)
Over the jaw (page 38)
About generating energy (page 46)
About teeth and molars (page 52)
Over the trachea (page 54)
About the neck, back and legs (page 56)

About riders and drivers (page 57)

Bone pain and behavior (page 58)

The bit: an obstacle to communication (page 72)
The crosswise bitless bridle (page 80)
Evolution of the bitless bridle (page 92)
Without bit and even without bridle (page 104)
A classification of methods of communication (page 112)
Decision (page 120)
Bibliography (page 126)
Accountability (page 130)
About the author (page 132)
Performance:
140 pages 2008-Netherlands-paperback-17 x 24 cm-with over eighty photos and drawings-395 grams
Original English title: Metal in the mouth. Translation: Madeleine Calkoen. This translation includes additions and adaptations by WR Cook, which makes it differ on certain points from his 2005 book "Metal in the Mouth".
For whom?
This book is of course a must read for anyone who (sometimes) drives with bit. Even if you plan to never never (completely) drive without a bit, it is just a very interesting book and therefore a good extension of your knowledge. We believe that everyone is free to choose whether or not to ride with a bit, but we do believe that people should at least know what a bit does in the mouth of a horse, and this book is also very suitable for that. But also for people who already ride bitlessly, we think it is highly recommended, almost all horse lovers will find this an interesting book because a lot of valuable and interesting information is given.
To order
| | | |
| --- | --- | --- |
| | Er ligt nog niets in je winkelwagen. | |
Prijzen inclusief BTW binnen de EU. Naar landen buiten de EU en voor ondernemers binnen de EU met geldig VAT-nummer (bij kassa opgeven) leveren wij belastingvrij.