Book 'Nature of the Horse'
by Dr. Marthe Kiley Worthington
This page is an automated translation of /nl/booknvhp.html and has not been reviewed yet.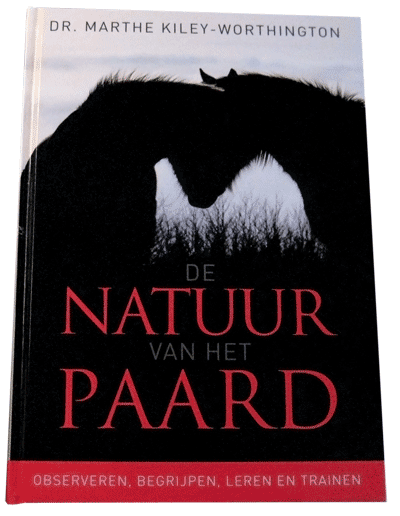 by Dr Marthe Kiley Worthington

What is it?
The book "The Behavior of Horses in Relation to Management and Training" written by Dr. Marthe Kiley Worthington, has finally been translated into Dutch (May 2009). Dr. Marthe Kiley Worthington is an ethologist and avid horse enthusiast. For her, science is at the service of her animal love. She is an ardent advocate for better handling of horses and with this book she points to various sore spots. Her writing style is not patronizing or coercive, she gives you food for thought and practical tips for useful improvements for handling, training and housing your horse.
The writer is a scientist, she has studied and researched a lot. Her book is therefore not a vague knot of an (always subjective) opinion, but it is based as much as possible on scientific facts. Despite this fact, the book is by no means dry food, nor is it difficult to understand because she has not used professional jargon but has chosen to keep the book easily readable for a wide audience. She has done this consciously because her book aims to change the world of the horse favorably and the majority of horse owners are simply not scientists.
The book gives you insight into the nature of a horse, why is this animal the way it is, how does the brain work, how does it learn, what does it need, and so on. We think this book is a must for anyone who would like to understand, keep and train their horses in the best possible way. It is very informative for the starting horse keeper, but also many people who have been involved with horses for years can learn a lot from it.
The book has been translated by Wilma Wedman. It is a beautifully bound hardcover of 203 pages with 73 illustrations and tables.
Index
Thanks
List of illustrations
Preface
Evolution and domestication of the horse(page 1) -The world of the horse(page 11) -Horse language(page 33) -Visual communication(page 53) -Sex, motherhood and the foal(page 81) -The coexistence of horses(page 107) -Eating behavior and digestion(page 125) -Grazing and pasture management(page 133) -How horses learn(pg 139) -Behavioral Problems(page 157) -Stereotypical behavior(page 177) -Horse welfare (page 189)
Register (page 197)
To order
| | | |
| --- | --- | --- |
| | Er ligt nog niets in je winkelwagen. | |
Prijzen inclusief BTW binnen de EU. Naar landen buiten de EU en voor ondernemers binnen de EU met geldig VAT-nummer (bij kassa opgeven) leveren wij belastingvrij.