Book Horse Naturally
Housing, nutrition, care, social behavior, natural trimming
This page is an automated translation of /nl/bookpn.html and has not been reviewed yet.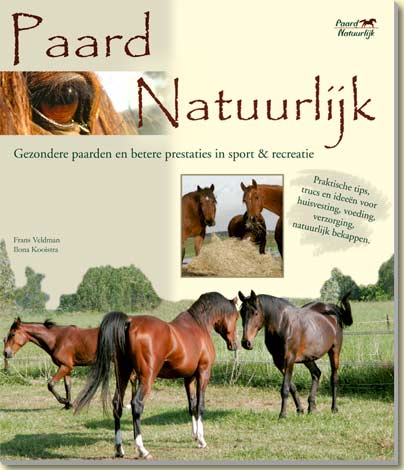 After many requests, the time has come: we have further elaborated the topics discussed on this website in a book with the appropriate title: "Horse Naturally".
What is it?
Our website has created a lot of movement in insights about how horses should be cared for. Many times we have been asked to elaborate on this and to publish it in book form.
The result is the book with the appropriate title: "Horse Naturally".
In addition to the deeper elaboration, the book contains many valuable additions: Experiences, practical tips, ideas, solutions to problems, etc.
Subjects
The topics that will be discussed are: Housing, nutrition, care, social behavior, natural trimming *) , etc. For all topics we look at how things work in nature, how domestic horses work and why this is not the case. is optimal, and how, using what nature can teach us, you can make improvements.
The book gives different ideas for different situations, gives inspiring practical examples, and discusses which problems you may encounter during the transition to a more natural situation and of course how best to prevent or solve them.
The back of the book gives a good impression of what to expect: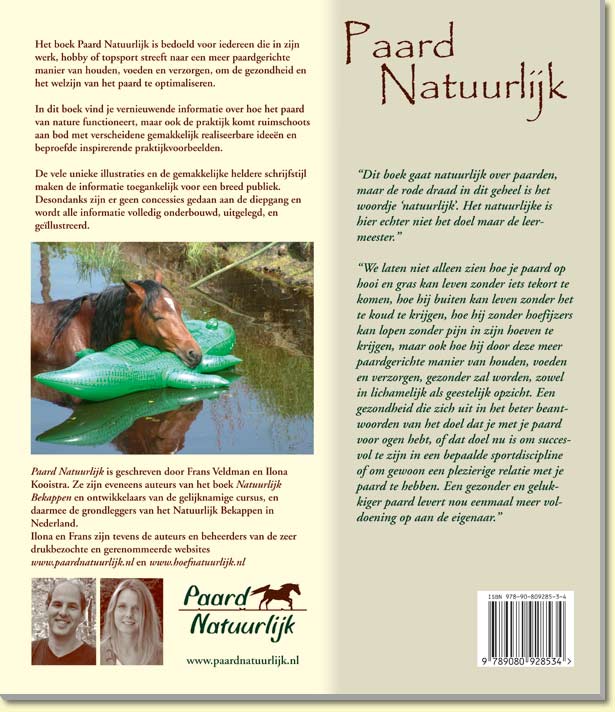 On our page about nutrition you will find an excerpt from the chapter about nutrition. In the book we tell you in greater detail:
how the horse's digestion works
how best to feed horses
how best to switch to a concentrate-free diet
how to get fat horses thinner
how to get thin horses fatter
everything about the herb garden, vitamins and minerals
how nutrition and training influence each other and the horse's performance
practical experiences
tips and ideas
On our page about housing you will find an excerpt from the chapter on housing. In the book we tell you in greater detail:
what the advantages are of more horse-oriented housing
how with a little imagination you can do more than you thought possible
how you can make the best possible use of the land you have at your disposal
how to stimulate your horse to move more on its own (= training)
how to build a horse pool and what the advantages are
how to install a frost-free water supply
how to prevent your horse from getting cold
how we ourselves built a horse paradise with one day's rental of an excavator
practical experiences
tips and ideas
This book is also part of the Multimedia package "Natural Hairdressing" and is also used as a theory book for the Natural (*hoofcarecourse) course . If you are interested in the multimedia package Natural Trim, do not order the book Paard Natuur los, because then you have the double! Although many people also find it a very nice and useful gift for someone else ;-)
To order
| | | |
| --- | --- | --- |
| | Er ligt nog niets in je winkelwagen. | |
Prijzen inclusief BTW binnen de EU. Naar landen buiten de EU en voor ondernemers binnen de EU met geldig VAT-nummer (bij kassa opgeven) leveren wij belastingvrij.