Book summer eczema
Summer eczema under control
This page is an automated translation of /nl/bookzoc.html and has not been reviewed yet.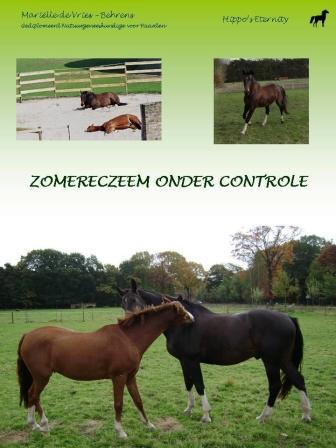 by Mariëlle de Vries - Behrens

What is it?
Back of the book:
Summer eczema is a common, troublesome condition in horses. It can affect all horses, regardless of breed. This book examines the possibilities of reducing the itching associated with summer eczema in the most natural way possible. This is not only important for the horse, but also for the owner who is often at a loss.
Summer eczema Onder Control clearly explains the causes of the development of summer eczema. In addition, the book goes deeply into the care of horses with summer eczema in terms of pasture management, nutrition and worm control. The medical aspects of stress, immune system and organs are also discussed. Finally, natural remedies are discussed per medical aspect that can make a positive contribution to the reduction of summer eczema.
The booklet is in A5 format, has 98 pages and is entirely in color.
To order
| | | |
| --- | --- | --- |
| | Er ligt nog niets in je winkelwagen. | |
Prijzen inclusief BTW binnen de EU. Naar landen buiten de EU en voor ondernemers binnen de EU met geldig VAT-nummer (bij kassa opgeven) leveren wij belastingvrij.