Bareback pad
For an independent seat. Machine washable
This page is an automated translation of /nl/barebackpad.html and has not been reviewed yet.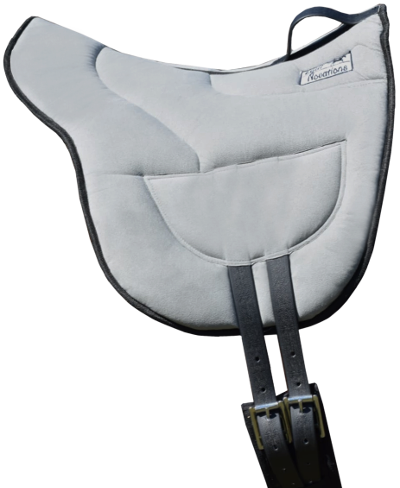 Why a bareback pad?
To develop a good, firm and independent seat, it is good to ride without a saddle regularly. A bareback pad is a handy tool: you don't need stirrups, knee rolls and other aids to be forced onto your horse in a certain position. This allows you to train yourself on an independent seat while thanks to the bareback pad you will not suffer from sweaty pants with horse hair sticking to it.
Features of this bareback pad
This pad is machine washable so it can be easily cleaned when needed. The underside of the pad is made of specially woven soft cotton, which is very pleasant to the skin of your horse and helps prevent irritations. It feels very soft but is not slippery on the horse's back. Some pads are made with a synthetic anti-slip such as sympanova, a pad of that material does not slide on the horse's back, but there are quite a few cases of horses that get white hair in their coat because of such an underside, which is why we have chosen for this type of cotton.
The top of the pad is made of a fairly non-slip material, so that you sit a lot more firmly on your horse than without a pad. The bareback pad has a comfortable padding that is not so thick or stiff that it undermines the feeling of riding without a saddle. It is cut in a nice shape and it adapts to the back of the horse, so it is also suitable for horses with a high wither.
Biothane
The girth straps and handle have been renewed and are now of superior quality, made from biothane. It is maintenance-free and it remains 'forever good'.
Sizes and colors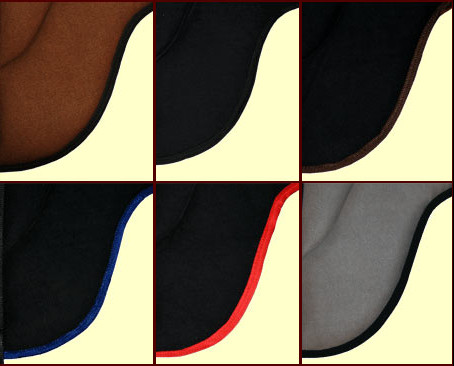 There is one size and it will fit most horses and ponies. Unlike a saddle, with a bareback pad it is basically not important how long it is (although the eye also wants something, of course). There is only pressure where you sit, so a pad that is too long, unlike a saddle that is too long, is not a problem. The pad can be adjusted to a circumference of 158 to 245 cm with the supplied girth, but you can also do your own dressage.
There are six different color combinations. Apart from the color, they are otherwise identical to each other.
Stirrups?
We have deliberately chosen not to put stirrups on the pad and not to make a provision so that it could be added to it if necessary. There are several reasons for this. First of all, it is dangerous to have stirrups on a pad. If the horse jumps to the side and you get out of balance, you have a lot of pressure on 1 stirrup. Because a bareback pad, unlike a saddle, has no reinforcements, it will slide to one side over the back of the horse while your feet are still in the stirrups, the rest is easy to guess ... Furthermore, the presence of stirrups a waste of the independent sitting exercise but much worse is that the stirrup leathers would make the pressure on the vertebrae of your horse very great. All your weight then rests on the back of your horse via the stirrup strap and that strap is only a few centimeters wide. With a saddle with a tree, you do not have that problem because the hard tree ensures that the pressure is distributed over a large surface. That does not happen with something that is soft. That is also the reason why we have not added bottle holders and the like: you should not really use a bareback pad for really long rides, again because it does not distribute pressure. For shorter sessions that is not bad, and if you are a lightweight rider with a strong horse then that is not so important, but for most combinations it is better to ride long distances with a well-fitting saddle and shorter with a bareback pad.
The benefits are briefly summarized:
Being able to practice a good independent sitting
A lot of feeling with the horse, you feel exactly what he is doing
No sweaty, itchy pants like when riding on a bare back
More safety than when riding on a bare back thanks to the non-slip materials used
Good anti-slip and yet no skin irritations or white hair (which is often the case with sympanova) on your horse thanks to the special cotton underside and the fact that the pad follows the shape of the horse's back well
Nice appearance, good quality and fit, nice handle
Comfortable, even with bare legs
No leather, machine washable
Reinforced girth straps of the high-quality biothane
Includes girth, possible to use your own favorite girth, standard English girth straps
Maintenance
If you are using the Barebackpad and it has become dirty over time, you can possibly wash it in the washing machine. First brush off any loose hair and wash it in the washing machine on a program without spinning, with cold/cool water (max 30 degrees).
| | | |
| --- | --- | --- |
| | Er ligt nog niets in je winkelwagen. | |
Prijzen inclusief BTW binnen de EU. Naar landen buiten de EU en voor ondernemers binnen de EU met geldig VAT-nummer (bij kassa opgeven) leveren wij belastingvrij.