Gift certificate
Digital voucher for the gift that someone can choose for themselves
This page is an automated translation of /nl/gift.html and has not been reviewed yet.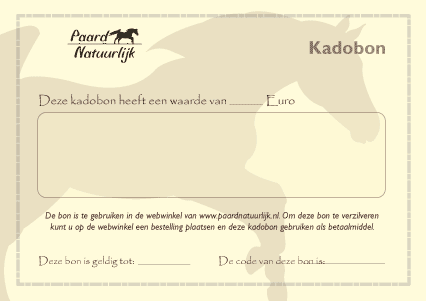 The Horse Natural Gift Certificate is a nice gift for someone who wants to offer you a Horse Natural gift, but does not know exactly what they want most. Or in case of a course, on which date the person would like to attend the course. The gift voucher can be used as a means of payment for all courses and articles from the Paard Natural Web Shop.
You determine the amount that you want to give to someone in a multiple of 5 euros. The total value is the value on the receipt.
There are no additional costs; the whole amount will go to the beneficiary.
We will send the gift certificate to the specified e-mail address. This can be the e-mail address of the beneficiary, but also your own e-mail address so that you can send the gift certificate to the beneficiary yourself.
When the beneficiary wants to buy something from the WebShop, he/she gives the number on the gift certificate when making the payment. The amount associated with the gift certificate will then be deducted from the order amount, any residual value can of course be returned with a subsequent order.
The voucher can only be returned via the webshop (not at the course location).
The voucher is valid for 5 years.
Tip: do you have doubts about the good value of the voucher? The prices of all products can be found in the price list, and here an overview of the courses
To order
| | | |
| --- | --- | --- |
| | Er ligt nog niets in je winkelwagen. | |
Prijzen inclusief BTW binnen de EU. Naar landen buiten de EU en voor ondernemers binnen de EU met geldig VAT-nummer (bij kassa opgeven) leveren wij belastingvrij.