Hoof stand
The most convenient hoof stand
This page is an automated translation of /nl/hoofstand.html and has not been reviewed yet.
To make trimming easier, we have designed a hoof stand. The hoof stand is made in such a way that it is very easy and safe to use and it makes a huge difference in the load on your back!
Movies say more than 1000 words, so here is a video in which we explain how it works. We also provide useful tips for convenient use and setting options.
The advantages of this hoof stand compared to the usual products are:
Ease of use

The hoof stand is easy to use:
When rounding the hoof wall you will always encounter the support with a normal standard. With this hoof stand you do not have this problem because the support is at an angle and the space under the hoof is left free (see the third image).
There are two attachments that can be changed with one hand movement. No locking: just pick it up and put it on.
The special attachment allows the horse to place its hoof very comfortably in the "hammock". The hoof is then stable so that you can easily work on it without having to keep the horse upright. This is also comfortable for the horse; the horse will easily learn to put the hoof in the stand.
Easily adjustable in height (38-60cm, so not suitable for very small ponies). The stand locks automatically; Manual locking is not necessary.
Collapsible. The hoof stand does not become an obstacle (you can adjust how easy or difficult this is by tightening the nut on the bolt).
The hoof stand does not make rattling or rattling noises during rasping because it is automatically pushed by the tilt and weight of the hoof.
Safety

Safety has received a lot of attention:
The height adjustment locks automatically when the hoof stand is loaded. Unexpectedly collapsing while the horse is leaning on it is impossible.
The support collapses automatically as soon as it is knocked over. This means that no protruding parts are left standing on which the horse could injure itself (you can adjust how easy or difficult this is by tightening the nut on the bolt).
Large and stable contact surface with the ground.
No openings where the horse can get trapped with his leg.
Quality

The hoof stand is of high quality:
Sturdy construction of thick-walled profile.
Galvanised; this makes it durable and rust resistant, even when scratches occur.
Bolts and nuts are made of stainless steel, so they are also permanently rust-resistant.
No sharp parts, finish with rubber caps and protective nuts.
The hammock is made of a material that is very sturdy and withstands sun, weather and wind.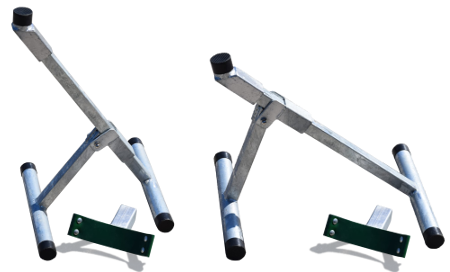 Make yourself
The design of this hoof stand has been patented (No. 1031254). However, we grant permission to copy this hoof standard for our own, non-commercial use.
Dimensions
Support length (including foot)
60 cm
Length transverse support (including foot)
30 cm
Width base
40 cm
Slider length
12 cm
Diameter (transverse) support
30 mm
Wall thickness support
3 mm
Wall thickness slides and attachments
4 mm
Some advice for rebuilding:
The forces that occur in this construction are higher than with a vertical hoof stand. Always use thick-walled material!
Keep to the exact dimensions indicated: with deviating dimensions, the center of gravity will soon be outside the ground surface.
The position of the hinge hole is critical: the hoof stand will sag when the cross brace can make an angle of more than 90 degrees.
To order
| | | |
| --- | --- | --- |
| | Er ligt nog niets in je winkelwagen. | |
Prijzen inclusief BTW binnen de EU. Naar landen buiten de EU en voor ondernemers binnen de EU met geldig VAT-nummer (bij kassa opgeven) leveren wij belastingvrij.
Interested in a Cap Apron , Hoof Pliers or (*hoofcutter) , Blades, Grinding Wheels or Gloves ?