Hoof Pliers
For when the hooves are really too long
This page is an automated translation of /nl/hoofcutter.html and has not been reviewed yet.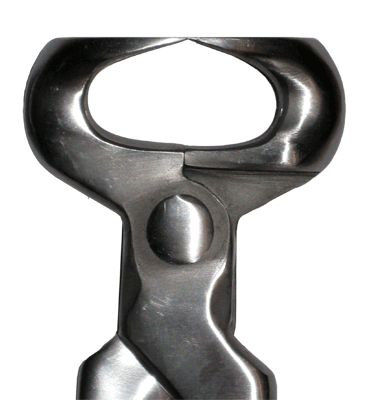 This hoof clip is made of a special hardened steel and the shape of the head is made in such a way that it can cut through a hoof wall as easily as possible.
For whom is this hoofang suitable?
These pliers are of professional quality and therefore suitable for professional groomers/farriers. We advise people who are just starting to trim and therefore have no trimming experience yet to not do the first trimming themselves and therefore not cut the far too long hoof wall of their horse with pliers. If the hoof is far too long and you are a novice trimmer, have the first trimming done by an experienced trimmer. This is because, as an inexperienced groom, it is very easy to end up with a completely crooked hoof and very difficult to get it right again. In our opinion, the use of a hoof clip is only for people who have already built up experience in trimming hoofs.
It took a long time before we added a hoof plow to our range, the reason for this is that it actually has nothing to do with 'natural' trimming. If you, as a horse owner, keep track of the hooves of your horse yourself, you are not supposed to use pliers to trim the hooves. If you do this, you are not working with a natural trimming, because it is based on the fact that the hooves experience frequent wear and are not made an inch shorter every once in a while. These pliers are therefore not a license to wait longer with the trimming because the hooves will definitely not be as good as if you keep them properly.
So why are we selling it now? Firstly, because we have more and more professional hairdressers as customers for the other tools and secondly because there are more and more people who have many years of trimming experience and have deepened their knowledge of natural trimming. They are asked to come and trim "that pitiful neglected pony from the old neighbor", or "the broodmare that never gets trimmed from that farmer" or ... These people need more than a rasp and a knife, they benefit from good hoof. However, the current professional pliers are usually (far) over 100 euros, while the pliers that are in a low price range due to their shape and the material used are completely unsuitable to work (smoothly). Therefore, this hoof which lives up to its name "Sharp & Strong" and is also acceptably priced.
Use
Always make sure you grab the pliers at the end of the shaft if you want to cut the hoof wall, because that way you use the longest possible lever and you are the strongest. If you are new to the use of forceps, make sure you leave too much hoof wall in the beginning so you don't accidentally cut the hoof too short.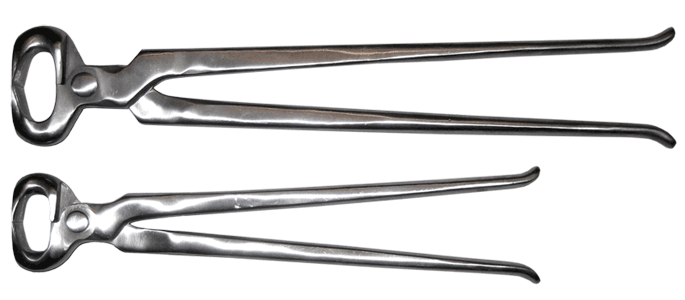 Sizes
There are two different sizes: pony (small; 31 cm long) and horse (large; 40 cm long). The advantage of short pliers is that they are easier to handle, easier to operate with one hand and that they are less likely to get tangled with the belly of the animal to be trimmed. The advantage of the long pliers, however, is that you are much stronger due to the larger lever, and the hoof wall is therefore much easier to cut. If you are not very strong and you don't just trim small hooves, then it is probably best to use the long tongs.
Affordable combination package
For people who trim both Shetland and Tinker size, it is difficult to choose. That is why we also offer the hoof pliers in a combination package: a large and a small pliers together for a very reasonable amount.
To order
| | | |
| --- | --- | --- |
| | Er ligt nog niets in je winkelwagen. | |
Prijzen inclusief BTW binnen de EU. Naar landen buiten de EU en voor ondernemers binnen de EU met geldig VAT-nummer (bij kassa opgeven) leveren wij belastingvrij.
Interested in a Cap apron , Hoof stand or (*hoofstand) , Knives, Grinding stones or Gloves ?